---
---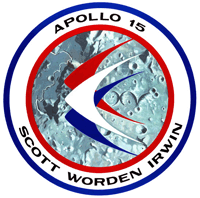 Manned Flight No.
43
Manned flight of the USA No.
25
The manned flight of the Apollo No.
9
Launch:
07/26/1971 13:34:00
Landing:
08/07/1971 20:45:53
Duration:
12 d 7 h 11 m 53 s
(305 h 11 m 53 s)
Orbits:
74
Distance:
2 050 524 km
Landing on the Moon:
07/30/1971 22:16:29
Liftoff from the Moon:
08/02/1971 17:11:22
Time on the Moon:
66 h 54 m 53 s
Lunar Coordinates:
26.1322° north, 3.6339° east
Command Module:
Endeavor
Lunar Module :
Falcon
Backup Crew:
Richard F. Gordon Jr., Commander
Harrison H. Schmitt, Lunar Module Pilot
Vance DeVoe Brand, Command Module Pilot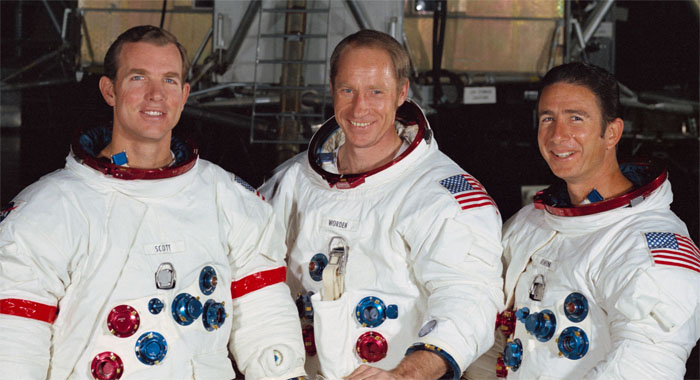 David Scott
(Commander)

Astronaut No. 26
Astronaut of the USA No. 15
Scott: 3rd flight
Cumulative time: 22 d 18 h 54 m 13 s
(546 h 54 m 13 s)
Alfred Worden
(Command Module Pilot)

Astronaut No. 54
Astronaut of the USA No. 29
Worden: 1st flight
Cumulative time: 12 d 7 h 11 m 53 s
(305 h 11 m 53 s)
James Irwin
(Lunar Module Pilot)

Astronaut No. 55
Astronaut of the USA No. 30
Irwin: 1st flight
Cumulative time: 12 d 7 h 11 m 53 s
(305 h 11 m 53 s)
Ninth manned flight on the program Apollo. Fourth landing on the moon surface. David Scott and James Irwin are the seventh and eighth people on the moon.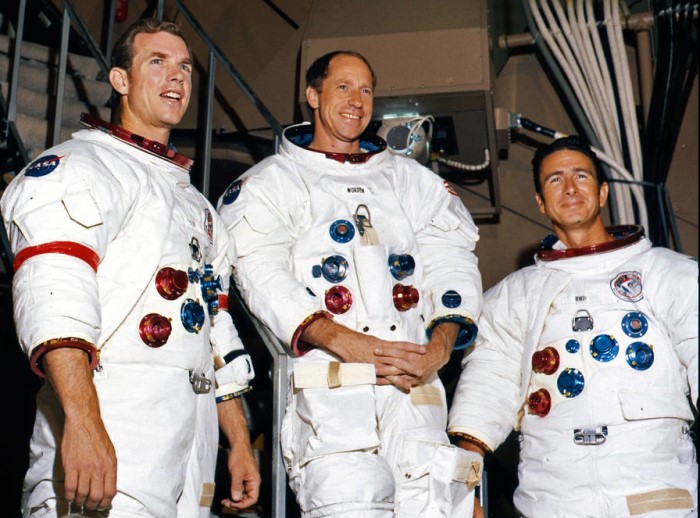 David Scott, Alfred Worden and James Irwin.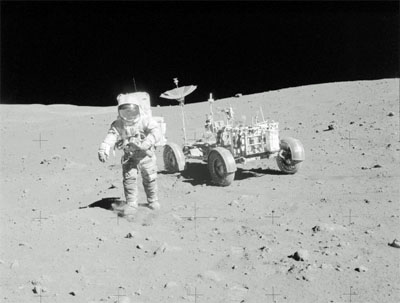 David Scott walks away from the Lunar Roving Vehicle.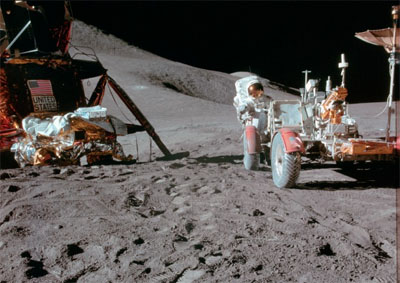 James Irwin works at the Lunar Roving Vehicle.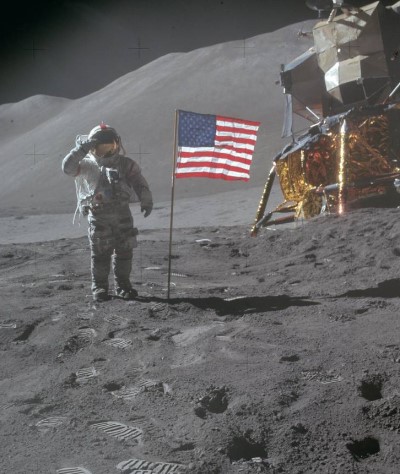 David Scott on the Moon.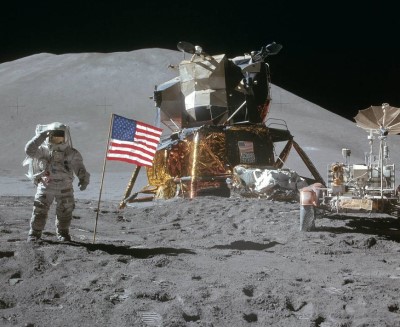 James Irwin on the Moon.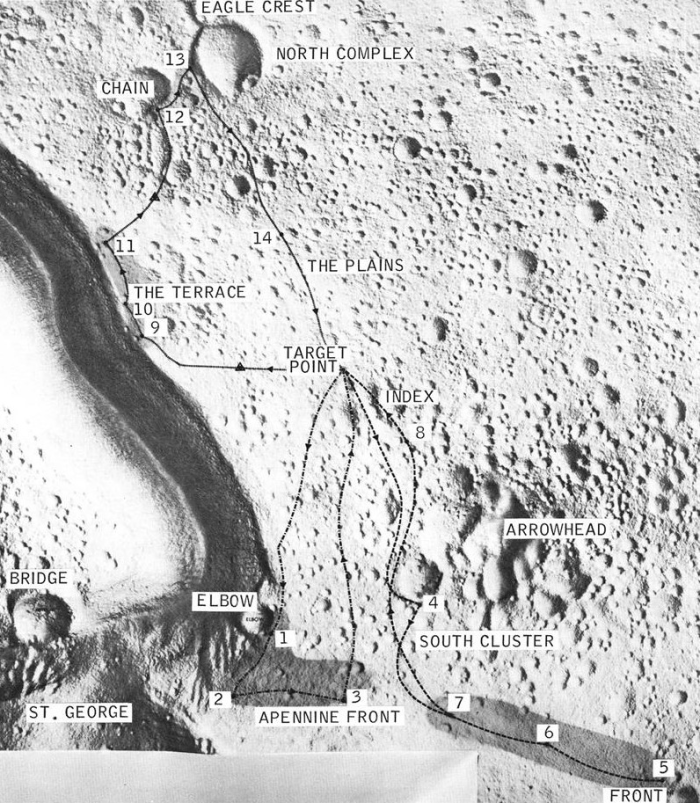 Map of the Apollo 15 landing site, showing the three planned traverses.
The rock dubbed "Great Scott," at 21 pounds the largest sample returned from the Moon.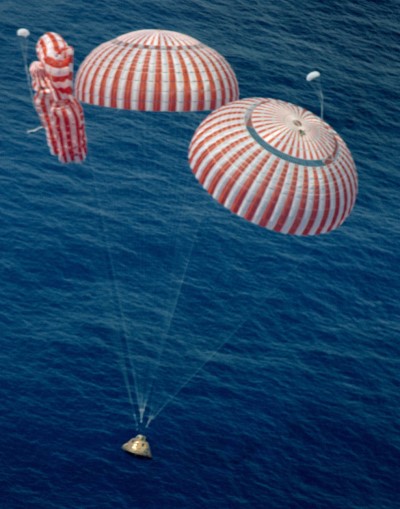 Apollo 15 descending on two main parachutes.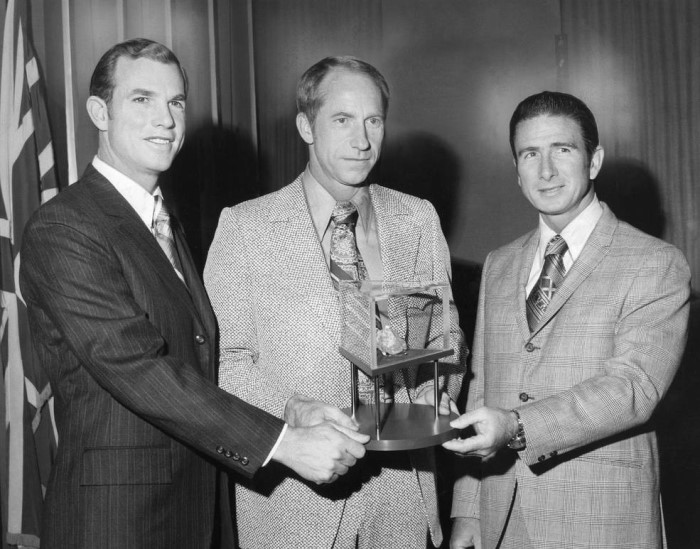 Scott, Worden, and Irwin present a Moon rock in London.
The longest flight:
06/06/1971 23 d 18 h 21 m 43 s (570 h 21 m 43 s) Georgy Dobrovolsky, Vladislav Volkov and Viktor Patsaev
The largest number of flights: 4 Lovell
The most cumulative time in space: 29 d 22 h 4 m 55 s (718 h 4 m 55 s) James Lovell
---



---


2001 Antropos.
Contact
Last update: Code: UTF-8.
Photos: NASA
---