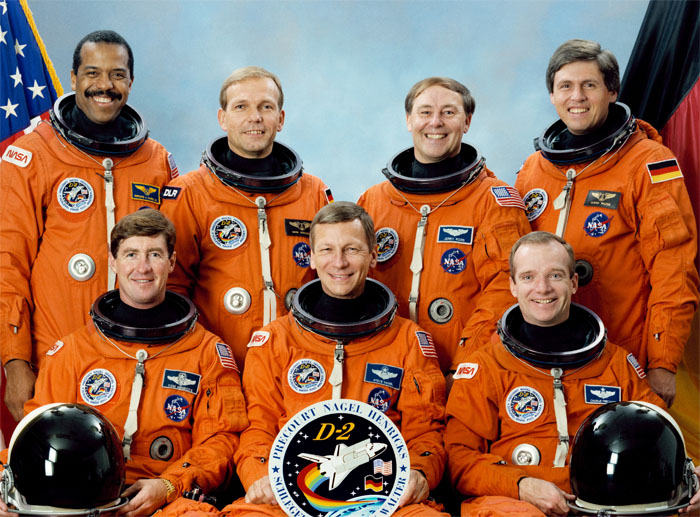 Front: Terence Henricks, Steven Nagel, Charles Precourt. Behind: Bernard Harris, Hans Schlegel, Jerry Ross, Ulrich Walter.
Astronauts Ross, Harris, Walter and Schlegel in space.
Fifty-fifth flight of the Space Shuttle. Fourteenth flight of the shuttle Columbia. The second flight Spacelab led by Germany. Stephen Nigel has established radio contact with Russian cosmonauts aboard the space station Mir.
The longest flight:
Dec 21, 1987 365 d 22 h 39 m 00 s (8782 h 39 m 0 s) Vladimir Titov and Musa Manarov
The largest number of flights: 6 Young
The most cumulative time in space (2 flightа):
541 d 0 h 29 m 41 s (12984 h 29 m 41 s) Musa Manarov
Astronauts and cosmonauts: 292
Astronauts USA: 182
Cosmonauts USSR/Russia: 74 /
Astronauts of the other countries: 36
--------------------------------------------------
Cosmonauts Czechoslovakia: 1
Cosmonauts Poland: 1
Cosmonauts DDR: 1
Cosmonauts Bulgaria: 2
Cosmonauts Hungary: 1
Cosmonauts Vietnam: 1
Cosmonauts Cuba: 1
Cosmonauts Mongolia: 1
Cosmonauts Rumania: 1
Cosmonauts France: 3
Cosmonauts West Germany: 6
Cosmonauts India: 1
Cosmonauts Canada: 3
Cosmonauts Saudi Arabia: 1
Cosmonauts Netherlands: 1
Cosmonauts Mexico: 1
Cosmonauts Syria: 1
Cosmonauts Afghanistan: 1
Cosmonauts Japan: 2
Cosmonauts Great Britain: 1
Cosmonauts Kazakhstan: 1
Cosmonauts Austria: 1
Cosmonauts Belgium: 1
Cosmonauts Switzerland: 1
Cosmonauts Italy: 1
Women-astronauts: 22