---
Challenger STS-41G
Челленджер STS-41G
---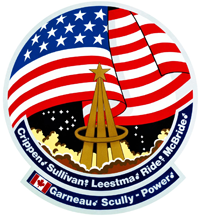 Manned Flight No.
100
Manned flight of the USA No.
44
Manned flight Space Shuttle No.
13
Manned flight Challenger No.
6
Launch:
Oct 05, 1984 11:03:00
Landing:
Oct 13, 1984 16:26:38
Duration:
8 d 5 h 23 m 38 s
(197 h 23 m 38 s)
Orbits:
133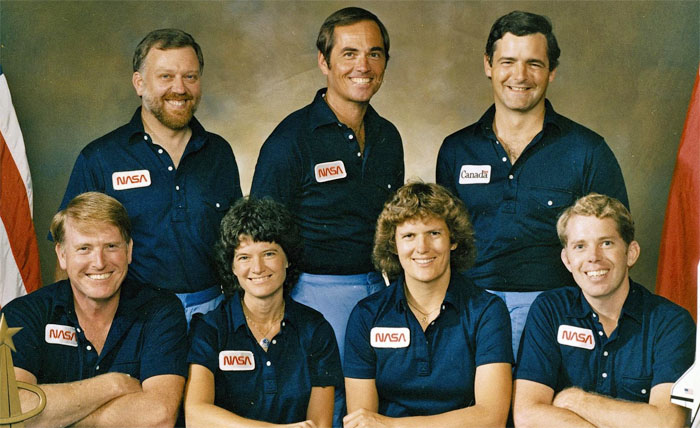 Front: Jon McBride, Sally Ride, Kathryn Sullivan, David Leestma. Behind: Paul Scully-Power, Robert Crippen, Marc Garneau.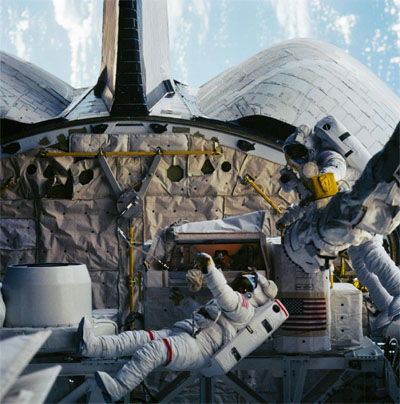 David Leestma and Kathryn Sullivan in cargo bay of Space Shuttle.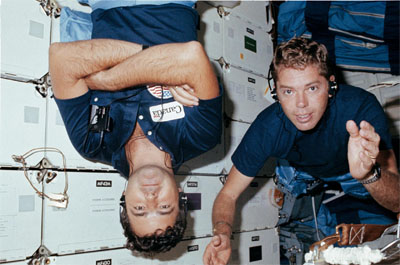 Marc Garneau and David Leestma in Challenger.
Thirteenth flight of Space Shuttle. Sixth flight of Space Shuttle Challenger. For the first time the crew is seven astronauts. For the first time at the same time two women in the crew. Catherine Sullivan is the first an American female astronaut went out into open space. Marc Garneau is the first astronaut from Canada.
The longest flight:
May 13, 1982 211 d 9 h 4 m 31 s (5073 h 4 m 31 s) Anatoly Berezovoy and Valentin Lebedev
The largest number of flights: 6 Young
The most cumulative time in space (3 flights):
361 d 21 h 31 m 57 s (8685 h 31 m 57 s) Valery Ryumin
Astronauts and cosmonauts: 153
Astronauts USA: 82
Cosmonauts USSR: 58
Cosmonauts Czechoslovakia: 1
Cosmonauts Poland: 1
Cosmonauts DDR: 1
Cosmonauts Bulgaria: 1
Cosmonauts Hungary: 1
Cosmonauts Vietnam: 1
Cosmonauts Cuba: 1
Cosmonauts Mongolia: 1
Cosmonauts Rumania: 1
Cosmonauts France: 1
Cosmonauts West Germany: 1
Cosmonauts India: 1
Cosmonauts Canada: 1
Women-astronauts: 5
---
STS-41D

STS-51A
---
Spaceflight 99


Spaceflight 101
---


2001 Antropos.
Contact
Last update: Code: UTF-8.
Photos: NASA
---