Izvestia January 11, 1990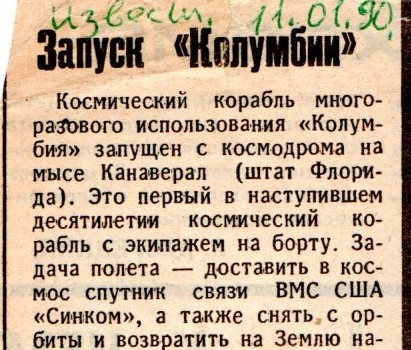 Launch of Columbia
(Reuters).
Space shuttle Columbia has been launched from the Cape Canaveral launch site, Florida. This is the first spacecraft with a crew on board in the coming decade. The mission of the flight is to deliver a communications satellite SYNCOM of the US Navy into space, as well as to remove from orbit and return to Earth a scientific satellite launched in 1984.
The flight of Columbia, carried out three weeks later than the scheduled date, will be the first of ten proposed launches of reusable US spacecraft. The flight program for 1990 is the most intense since the launch of the first space shuttle. The time spent by Columbia in space is calculated for ten days. Scientists view this launch as an important part of preparation. reusable spaceships for flights lasting 16 days or more.
Experiments will be conducted during the flight to answer questions regarding the effects of prolonged exposure conditions of outer space on the human body.
The Columbia's crew consists of five people, three men and two women. The flight commander is US Navy Captain Dan Brandenstein. Pilot - Lieutenant Navy Jim Wetherbee. Specialists are working on board - Bonnie Dunbar, Marsha Ivins and David Low. Brandenstein and Dunbar have previously flown into space.
Returning to Earth, Columbia will carry a satellite weighing ten and a half tons, which will be removed from orbit by a robot, on board the shuttle. An operation to rescue the satellite is planned for the fourth to sixth day of the flight. Satellite rescue the size of a bus slowly crashing to Earth will require some of the most skillful maneuvers ever shuttle crews. It is not planned to enter into oter space during the rescue of the satellite.
---
Izvestia January 21, 1990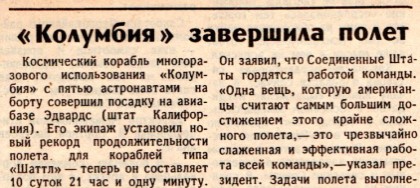 Columbia completed flight
(Reuters).
Space shuttle Columbia, with five astronauts on board, landed on Edwards Air Force Base (California). Its crew set a new record for the duration of the flight, for the space shuttle - now it is 10 days 21 hours and one minute. This is 13 hours 14 minutes more than before the longest space mission, also completed by Columbia in 1983.
On Friday, the day before landing, US President George W. Bush addressed the astronauts. He stated that the United States is proud of the team's work. "One thing that Americans think is the greatest the achievement of this extremely difficult flight is an extremely well-coordinated and effective work of the entire team", - the president said. The missions of the flight were completed - an 11-ton satellite, which had been in space for five and a half years, was removed from orbit and placed in the cargo bay. The crew launched the SYNCOM F-5 communications satellite of the USA Navy into orbit.
---