"Soviet Russia" November 25, 1989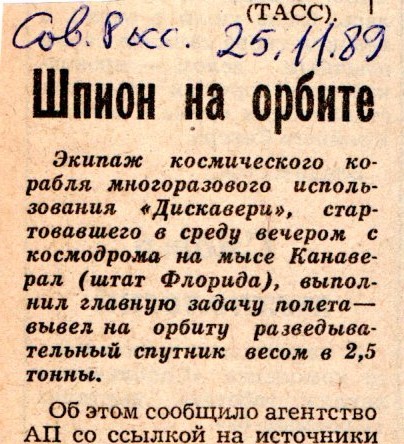 Spy in Orbit
The crew of the space shuttle "Discovery", which launched on Wednesday evening from the cosmodrome at the Cape Canaveral (Florida), completed the main mission of the flight - launched a reconnaissance satellite weighing 2.5 tons into orbit.
This was reported by the AP agency citing sources in NASA. Since the Discovery flight is carried out according to the program the Pentagon, all its details are kept in strict confidence. According to press reports and speculation by experts, a spy satellite launched into orbit 10 hours after the launch of the spacecraft is intended for tracking for testing Soviet missiles, as well as for intercepting high-frequency telephone conversations. The satellite will be located 22,300 miles above the equator.
As reported by NASA, "Discovery" with five astronauts on board is to land on Sunday at 19:02 local time at Edwards Air Force Base in California. It is indicated that the crew is doing well.
---