---
---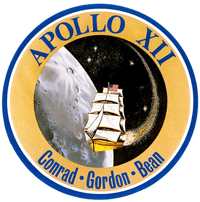 Manned Flight No.
37
Manned flight of the USA No.
22
The manned flight of the Apollo No.
6
Launch:
11/14/1969 16:22:00
Landing:
11/24/1969 20:58:25
Duration:
10 d 4 h 36 m 25 s
(244 h 36 m 25 s)
Orbits:
45
Distance:
1 532 665 km
Landing on the Moon:
11/19/1969 06:54:35
Liftoff from the Moon:
11/20/1969 14:25:47
Time on the Moon:
31 h 31 m 12 s
Lunar Coordinates:
3.0128° south, 23.4219° west
Command Module:
Yankee Clipper
Lunar Module :
Intrepid
Backup Crew:
David R. Scott, Commander
James B. Irwin, Lunar Module Pilot
Alfred M. Worden, Command Module Pilot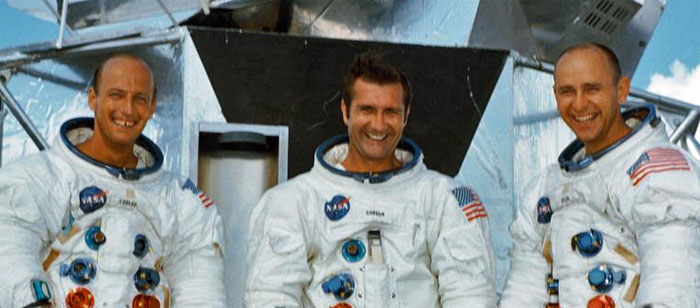 Charles Conrad
(Commander)

Astronaut No. 21
Astronaut of the USA No. 10
Conrad: 3rd flight
Cumulative time: 21 d 2 h 48 m 47 s
(506 h 48 m 47 s)
Richard Gordon
(Command Module Pilot)

Astronaut No. 29
Astronaut of the USA No. 18
Gordon: 2nd flight
Cumulative time: 13 d 3 h 53 m 33 s
(315 h 53 m 33 s)
Alan Bean
(Lunar Module Pilot)

Astronaut No. 45
Astronaut of the USA No. 24
Bean: 1st flight
Cumulative time: 10 d 4 h 36 m 25 s
(244 h 36 m 25 s)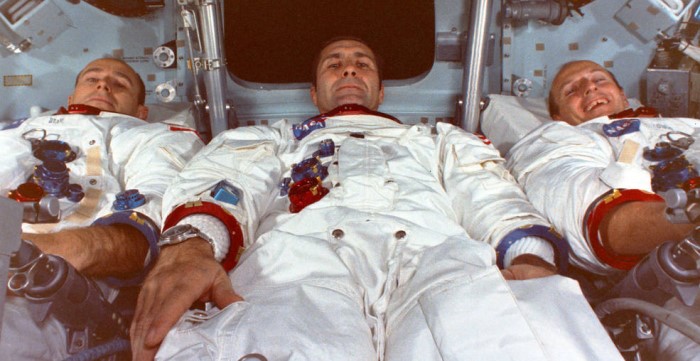 Bean, Gordon and Conrad inside the Command Module simulator.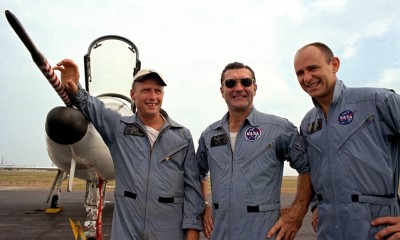 Conrad, Gordon and Bean in front of a aircraft T-38.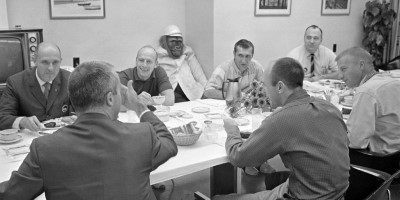 Prelaunch brekfast.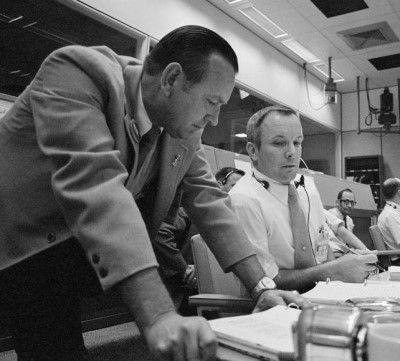 Flight Director Griffin (seated) with Director of Flight Operations Christopher C. Kraft.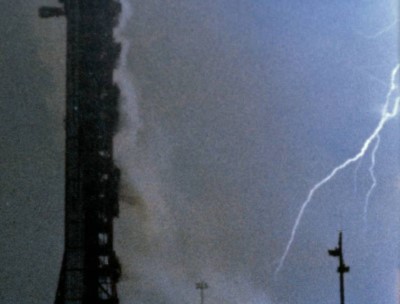 Lightning over the launch pad.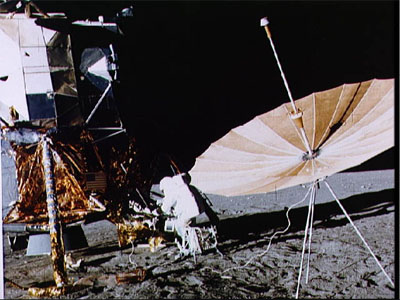 Charles Conrad on the moon surface.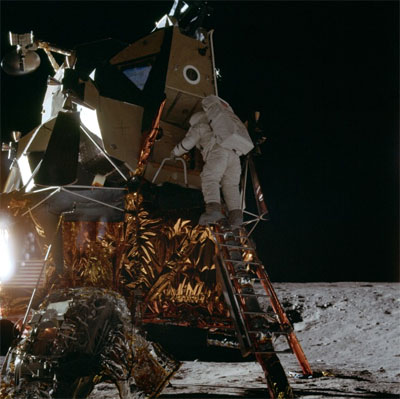 Alan Bean starts down on the moon surface.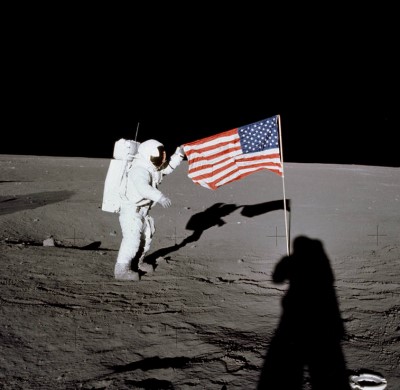 Conrad with the flag of the USA.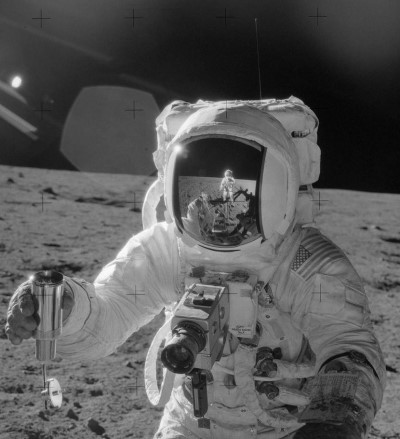 Bean holding a container of lunar soil.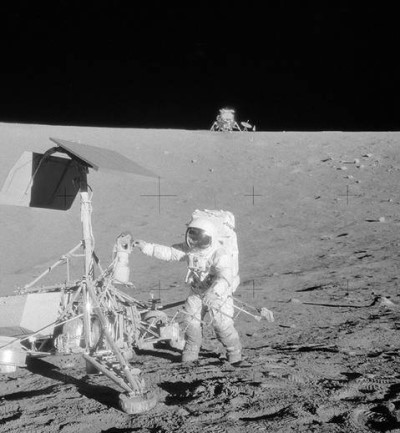 Conrad with Surveyor 3.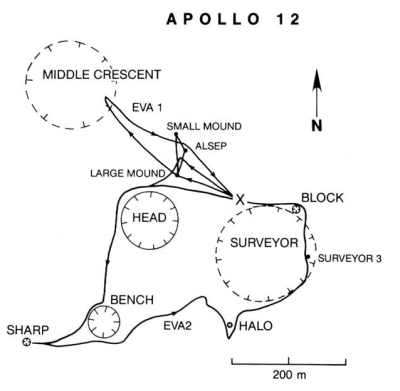 Map of the Apollo 12 EVA1 and EVA2 traverses.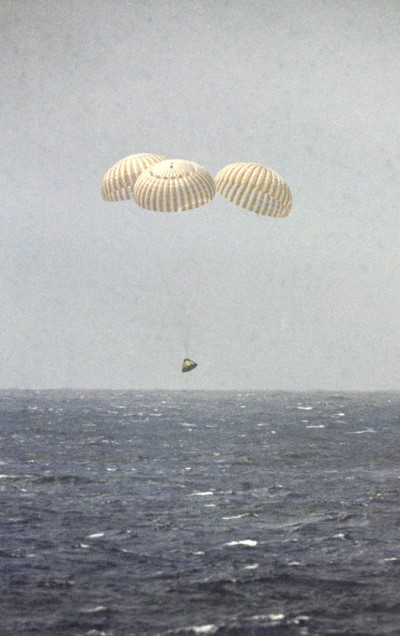 Yankee Clipper descending on its main parachutes.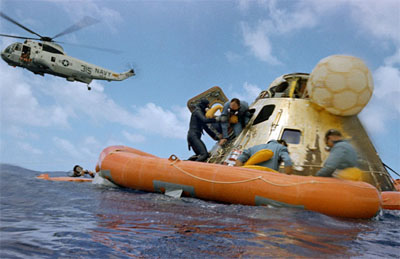 Yankee Clipper after splashdown in Pacific Ocean.
The longest flight:
12/04/1965 13 d 18 h 35 m 01 s (330 h 35 m 1 s) Frank Borman and James Lovell
The largest number of flights: 3 Schirra, Lovell, Young, Stafford, Conrad
The most cumulative time in space: 23 d 23 h 10 m 14 s (575 h 10 m 14 s) James Lovell
Sixth manned flight on the program Apollo. Second landing on the moon surface. Charles Conrad and Alan Bean are the third and fourth people on the moon.
---



---


2001 Antropos.
Contact
Last update: Code: UTF-8.
Photos: NASA
---