Cosmonaut No. 562
Cosmonaut UAE No. 1
Al Mansouri: 1st flight
Cumulative time: 7 d 21 h 1 m 18 s
(189 h 1 m 18 s)
Oleg Skripochka (Commander)

Cosmonaut No. 519
Cosmonaut Russia No. 105
Skripochka: 3rd flight
Cumulative time: 536 d 3 h 49 m 4 s
(12867 h 49 m 4 s)

Astronaut No. 561
Astronaut USA No. 345
Woman-astronaut No. 64
Meir: 1st flight
Cumulative time: 204 d 15 h 19 m 1 s
(4911 h 19 m 1 s)
139th manned flight of the Soyuz. 59th flight of the Soyuz spacecraft to the ISS. Oleg Skripochka and Jessica Meir joined Alexander Skvortsov, Andrew Morgan and Luca Parmitano in the 61st crew of the ISS. Hazza Al Mansouri returned to earth in the Soyuz MS-12 spacecraft. Hazza Al Mansouri is the first cosmonaut of United Arab Emirates.

The prime and backup crewmembers: Hazzaa Al Mansouri, Oleg Skripochka, Jessica Meir,
Sultan Al Neyadi, Sergey Ryzhikov, Thomas Marshburn.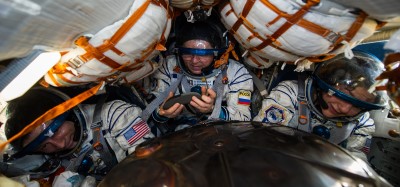 Crew after the landing: Morgan, Skripochka, Meir.
The longest flight:
Jan 08, 1994 437 d 17 h 58 m 31 s (10505 h 58 m 31 s)
Valery Polyakov
The largest number of flights: 7
Jerry Ross, Franklin Chang-Diaz
The most cumulative time in space (5 flights):
878 d 11 h 30 m 49 s (21083 h 30 m 49 s) Gennady Padalka
Astronauts and cosmonauts: 562
Astronauts USA: 345
Cosmonauts USSR/Russia: 120 /
Cosmonauts China: 11
Astronauts of the other countries: 86
Women-astronauts: 64
--------------------------------------------------
Cosmonauts Czechoslovakia: 1
Cosmonauts Poland: 1
Cosmonauts DDR: 1
Cosmonauts Bulgaria: 2
Cosmonauts Hungary: 1
Cosmonauts Vietnam: 1
Cosmonauts Cuba: 1
Cosmonauts Mongolia: 1
Cosmonauts Rumania: 1
Cosmonauts France: 10
Cosmonauts Germany: 10
Cosmonauts India: 1
Cosmonauts Canada: 10
Cosmonauts Saudi Arabia: 1
Cosmonauts Netherlands: 2
Cosmonauts Mexico: 1
Cosmonauts Syria: 1
Cosmonauts Afghanistan: 1
Cosmonauts Japan: 12
Cosmonauts Great Britain: 2
Cosmonauts Kazakhstan: 3
Cosmonauts Austria: 1
Cosmonauts Belgium: 2
Cosmonauts Switzerland: 1
Cosmonauts Italy: 7
Cosmonauts Ukraine: 1
Cosmonauts Spain: 1
Cosmonauts Slovakia: 1
Cosmonauts South Africa: 1
Cosmonauts Israel: 1
Cosmonauts Brazil: 1
Cosmonauts Sweden: 1
Cosmonauts Malaysia: 1
Cosmonauts South Korea: 1
Cosmonauts Denmark: 1
Cosmonauts UAE: 1